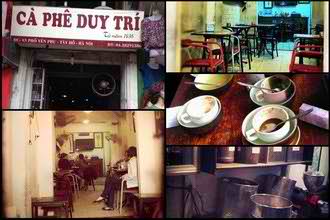 Western-style cafes and coffee shops are becoming increasingly common in Vietnamese cities, but most of them pale in comparison to the traditional cafes dotted around central Hanoi. Here's where to go and what to order for an authentic local experience. Most cafes are opened from 7:00am to 7:00pm, but hours sometimes vary. On the eastern edge of the Old Quarter, Nguyen Huu Huan Street is lined with good cafes, most with free Wi-Fi.
Café Duy Tri (43A Yen Phu Street): In the same location since 1936, this caffeine-infused labyrinth is a Hanoi classic. You'll feel like Gulliver as you negotiate the tiny ladders and stairways to reach the 3rd floor balcony. Order the delicious ca phe sua chua (iced coffee with yoghurt), and you may have discovered your new favorite summertime drink. You'll find Yen Phu Street a couple of blocks east of Truc Bach Lake north of the Hanoi's Old Quarter.
Café Pho Co (11 Hang Gai Street): One of Hanoi's best-kept secrets, this place has plumb views over Hoan Kiem Lake. Enter through the silk shop, and continue through the antique-bedecked courtyard up to the top floor for the mother of all vistas. You'll need to order coffee and snacks before tackling the final winding staircase. For something deliciously different, caphe trung da, coffee topped with silkily smooth beaten egg white.
Café Lam (60 Nguyen Huu Huan Street): Another classic café that's been around for yonks – long enough to build up a compact gallery of paintings left behind by talented patrons who couldn't afford to pay their tabs during the American War. These days, you're just as likely to spy Converse-wearing and Vespa-riding bright young things refueling on wickedly strong caphe den (black coffee).
Cong Caphe (152 Trieu Viet Vuong Street): An essential pilgrimage for coffee fiends is Trieu Viet Vuong Street, around 1km south of Hoan Kiem Lake. This street is lined with scores of cafes – some modern spots with iPad-toting teens and others more old school. Settle in to the electric beats and kitsch Communist memorabilia at Cong Caphe with a caphe sua da (iced coffee with condensed milk). There's another branch of Cong Caphe near the Military History Museum en route to Ho Chi Minh's Mausoleum.
Café Linh (65 Hang Buom Street): Step out of the chaos of the Old Quarter into this fascinating café decorated with military memorabilia from the American War. Light boxes display the detritus of war, mortars and grenades are fashioned into lamps, and khaki parachutes billow from the ceiling. Factor in the music – often classic 1960s and 1970s soul and rock – and it's happening scene.
(Source: Lonely Planet Guidebook)