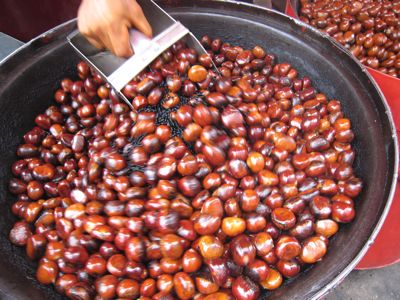 [twocol_one]During hard times in Hanoi, hot chestnuts were more than a snack. They drew people together and helped to ease the dreariness of winter. Even today, when living conditions are much improved, Hanoians recall long-ago scenes of roasting chestnuts with fond nostalgia. Every year, come October or November, the chestnut sellers reappear. Stroll along streets like Hang Bac, Hang Be, Nguyen Huu Huan or To Tich and you will likely encounter women roasting chestnuts over charcoal.
Because of their hard shell, chestnuts are first boiled before being roasted with salt or sand. The latter ingredients help to keep the nuts from burning. The secret to roasting perfect chestnuts is knowing how[/twocol_one] [twocol_one_last]much to heat the pan. While chestnuts may be found all over the city, the best are reputedly sold on To Tich Street.
Upon removing the brown shell, the while chestnut is revealed. Part of this snack's allure is its scent, which makes people feel warmer. To prepare chestnuts at home, be sure to boil them for 20 minutes before roasting.
With a wealth of imported snacks on offer, Hanoians are still drawn to buy bags of roasted chestnuts when the weather turns cool. On a winter's night, some lovers are sure to be wandering Hanoi's streets sharing a bag of steaming chestnuts.
By: Thanh Huyen[/twocol_one_last]