[threecol_one]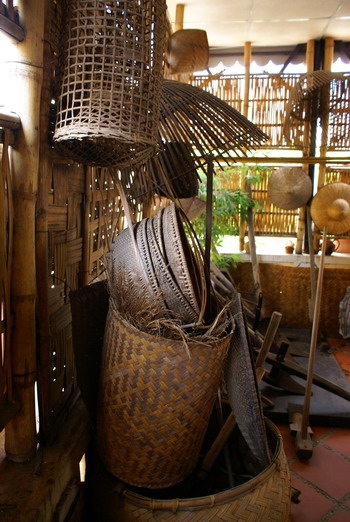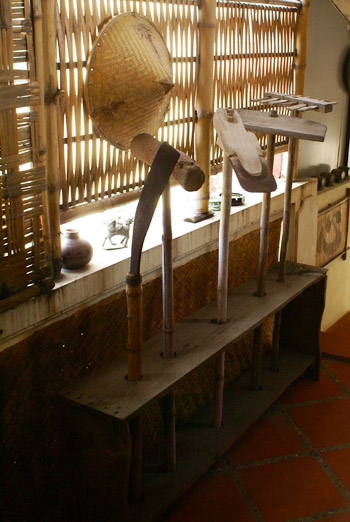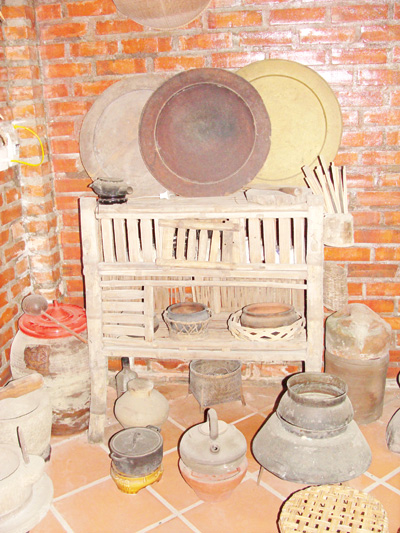 by: Hai Anh – Heritage Magazine
[/threecol_one] [threecol_two_last]
Mr. Son collects old farming tools as a way to pay homage to his ancestors. His huge collection of farming implements brings the daily lives of farmers in northern Vietnam into focus.
For Mr. Son, old farming tools are priceless treasures that money cannot buy. He cares for each item in his collection as a way to preserve Vietnam's cultural values. Collecting old farming tools gives him great pleasure and excitement. He is always on the lookout for new implements to add to his collection.
Mr. Son still remembers how in late 2005 a guest came to his house and told him about an old bamboo cabinet that he had seen in Bac Giang Province. Immediately, Mr. Son drove to Bac Giang in a small lorry and bought the cabinet. Many people would see that old bamboo cabinet as a useless and obsolete item, but for Mr. Son, it represents the lives of our forefathers. He was thrilled to find a hammock clog, which is a wooden piece in which to store a hammock, in Bac Ninh Province, and a hammock in Thai Binh province. While others may view him as an eccentric collector of "rubbish", Mr. Son's love of old farming tools remains strong.
A visit to his small "museum" on the fourth floor of his house leaves me astonished by his range of plain and simple farming tools. A rice-hulling mill is closely associated with Vietnamese farmers and reminds me of my beloved grandparents. When I was a young girl, I often went to the countryside to visit them, and hung around asking for stories. I still remember my grandmother teaching me to use a rice sieve, a broad flat drying basket and a small bucket used for working in the paddy fields. These items are included in Mr. Son's collection. To him, an old wooden tray is far more valuable than any plastic or stainless steel tray, because it presents our ancestors' lives.
I am intrigued by a rice mortar made of stone. In the past, Vietnamese farmers made their own stone rice mortars. A collection of ploughs told a story about ancient agriculture. There are a type of plough called "L'araire" that was first produced in 1951, then modified with a bigger curved plough-blade in 1958.
The daily life of northern Vietnamese farmers came alive thanks to Mr. Son's collection of rakes, fishing baskets, coulters, clod-beetles, and so forth. There was even a strange tool for catching buffaloes. Some traditional clothing made me curious. Mr. Son told me that he had to beg an old woman in Hung Yen province to part with these garments, which she had used during her whole life.
Thanks to his great love for farming tools, Mr. Son has built an exotic and exquisite collection. His voyage to discover new farming tools is ongoing.[/threecol_two_last]