[twocol_one]Badly damaged by bombs during the war, the Long Bien Bridge stands as a symbol of Hanoi's resilience.
Whenever I cross the Long Bien Bridge, this verse, which I learned as a child, echoes in my ears.
Here, stand the Long Bien Bridge in Hanoi,
Reaching far and wide over the Red River.
Vehicles and trains move slowly and serenely
And lives advance day by day.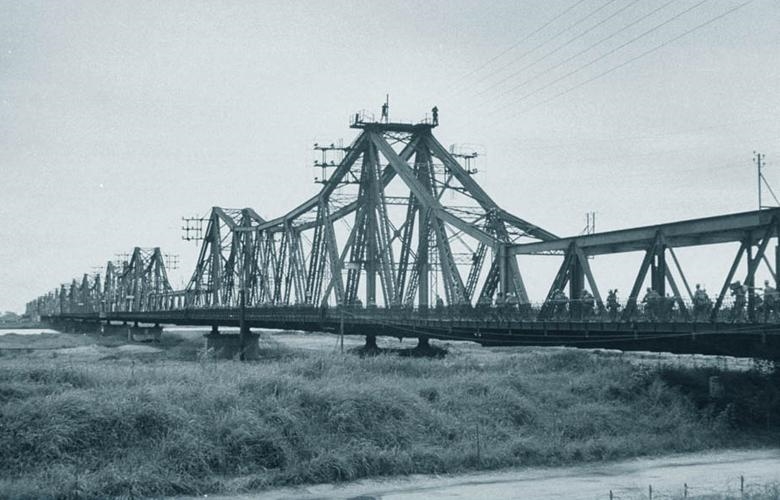 My house lied just 100 meters from Hanoi's Sword Lake and one kilometer from the Long Bien Bridge. Nevertheless, the bridge seems more familiar to me. Perhaps, event out of sight, its image remains stuck in my mind.
In the late 19th century, the Governor General of French Indochina, Paul Doumer, proposed the idea of building a steel bridge across the Red River (formerly named the Mother River). The audacious idea horrified the French Parliament. How could they monitor the treacherous river? How could they raise the finances? Thanks to the perseverance of Paul Doumer, a design competition for this crazy project was held in 1897.
Most people assume that the design by Gustave Eiffel Co. was chosen and Dayde & Pille Co. won the construction contract. However, there is convincing evidence that Eiffel Co. took part in the contest, but did not win. According to records from the National Archives 1, the original sketch bore the signature of only[/twocol_one] [twocol_one_last]Dayde & Pille Co. was responsible for both the design and main construction. (The entrance bridge was built by the Indochina Construction Office in Vietnam.)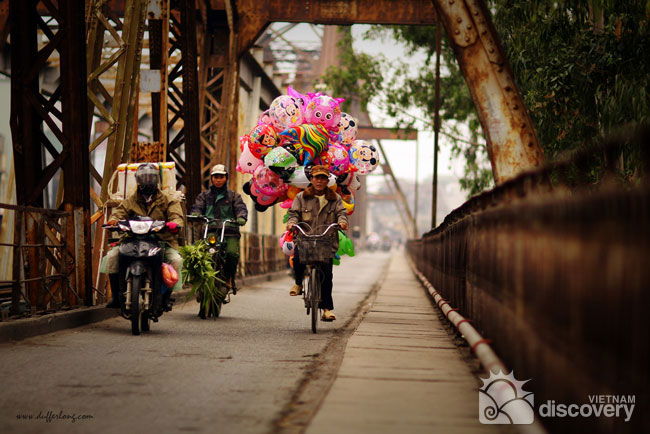 Steel labels that are still attached to the bridge read "Dayde & Pille – 1899 – 1902". Since Eiffel Co. designed other steel bridges in Vietnam, including the Ha Ly Bridge (Hai Phong), the Trang Tien Bridge (Hue), and the Ben Luc Bridge (Saigon), is it possible that it has been mistakenly credited with having designed the Long Bien Bridge?
Construction officially began in March 1899 and finished on February 28th, 1902. The bridge was christened Doumer, in honor of the Indochinese Governor General. Popularly, it was known as the "Mother's River Bridge". Emperor Thanh Thai also attended the inauguration of what was then the longest bridge in the Far East, and the second-longest bridge in the world. When Vietnam won independence in 1954 the bridge was renamed Long Bien.
Since then, four more bridges have been built across the Red River in Hanoi: Thang Long, Chuong Duong, Vinh Tuy and Thanh Tri. However, I still go out of my way to use the Long Bien Bridge. Through ups and downs, this bridge still serves as a tourist site, a romantic venue for dating couples, a breath of fresh air for people who live in cramped rabbit hutches in Hanoi's Old Quarter, and a source of inspiration for artists.
The Long Bien Bridge is an icon of Hanoi, where the wheels of modern life roll onwards. For residents of Hanoi's crowded Old Quarter, the Long Bien Bridge offers fresh air and wide open views.
(By: Nguyen Huu Bao – Heritage Magazine)[/twocol_one_last]