Discover Hanoi at night is really a great experience for travelers to this land. This is the chance for them to not only admire a different charming side of Hanoi, but also to enjoy night gifts offered by the capital city.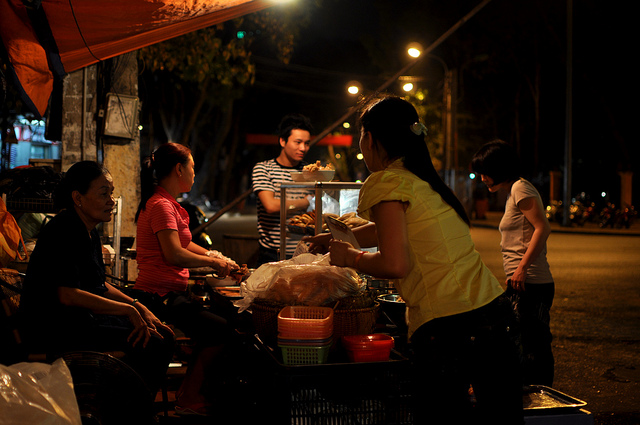 Not only enjoy three main meals in a day, Hanoians also have a hobby of enjoying night food. For a long time, sounds of night food vendors and night food vendors have become a very popular image in the memory of people of Hanoi.
Wandering around Hanoi in each season, you will find out that the night gifts of Hanoi are not the same during four seasons. If in the winter, Hanoi streets are covered with hot chestnuts, pillow cakes, corn cakes, sweet potato cakes or toasted corn , sweet potatoes or hot which can be enjoy hot among the cold of winter days, we see a Hanoi summer night with iced pomelo sweet soup or miscellaneous sweet soup, or iced lemon tea. Each one has a special taste, attracting every person to Hanoi. But if you wish to enjoy the delicious dishes of both winter and summer in Hanoi as well as other special ones, you should visit Hanoi in its days of autumn or spring when Hanoi is in its transition of season.
Especially, if you don't have much time in Hanoi but wish to enjoy most of Hanoi night delicacies, don't hesitate to visit Dong Xuan Night Market. This is not only the place which offers you a dynamic and busy Hanoi at night, but also a place where a wide variety of Hanoi food is concentrated.
The night gift seems to be a very Hanoi feature which can rarely find anywhere else.