Christmas is coming. Although it is not the public holiday of Vietnam, you still can see the air of Christmas covering the big cities of Vietnam including Hanoi and Ho Chi Minh City. Right from the first day of December, the whole of Hanoi is instantly festooned with fairy lights, fake snow, and electric Santas playing saxophones. Every supermarket and café switches their playlist over to Kindergarten Children Singing Jingle Bells On Repeat.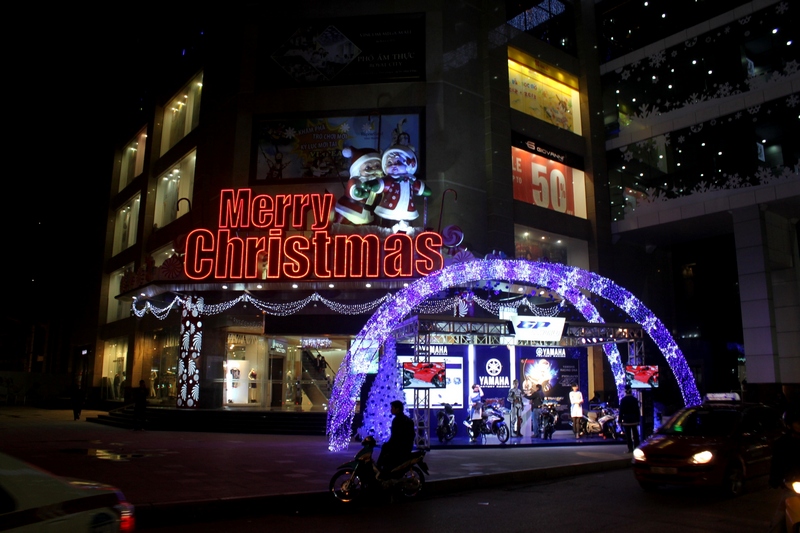 If you want to see an early air of Christmas in Hanoi, maybe there is no better place than Hàng Mã Street the Saint Joseph Cathedral.
Hàng Mã, the street in the Hanoi Old Quarter has been bustling for nearly two weeks before Christmas. Here you can find an ever-changing array of seasonal decorations, from every possibility and Christmas trees, wreathes, lights and Santa suits.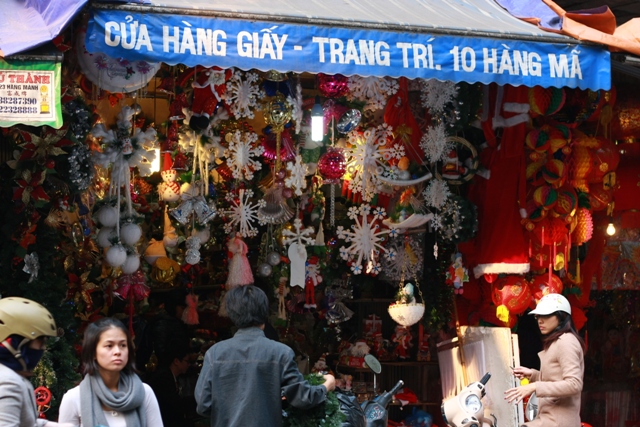 Making full use of your trip to walk around Hanoi's Old Quarter should be a good idea as it may remind you of your hometown with Christmas trees being put up in front of restaurants; snowmen made from cotton near Ice-cream shops or  numbers of Santa hand his reindeers on sides of clothe stores. It is also not weird if you see one or two Santa driving motorbike instead of the reindeers on streets because they are actually gifts delivers.
In addition, if you visit the Saint Joseph Cathedral during this time, you can see a busy preparation. All the followers are speeding up their preparation for an importation ceremony.
Of course, these are not the only places you can see the air of Christmas in Hanoi. Every street now is covered by this special air. Don't hesitate to go out and discover Hanoi right now, especially when you live far from your family and wish to soak yourself in the air of your hometown.
Especially, during the Christmas Eve, you will see an ever-bustling air in Hanoi where almost of its citizens try to go out and enjoy the event which is held only once a year. Although this is not a public holiday, but it become a habit and a wish of all people living in Hanoi now.