If you make a weekend holidays to Hanoi and wander around the intersection of Tran Binh Trong, Nguyen Du which is close to Thien Quang Lake, you will see a fascinating image of numerous people at various ages gathering and enjoying showing and watching their lovely birds. Just strongly developed some years ago, the bird caring and watching has become an elegant hobby of Hanoians. The birds presented here belong to various species from passerines to red-whiskered bulbuls and receive a special care from their owners in terms of both feeding and living space.
Participants at the intersection of Nguyen Thuong Hien, Nguyen Du and Tran Binh Trong are not only the bird owners with big love and plentiful skills in bird caring but also people who wish to enjoy the melodious songs of birds here.
From the early morning, various species of birds have been taken here for a voice competition. This is really an interesting part of each bird show since for many bird owners, a bird with highly appreciated voice is their pride.
For many people, joining the bird show every weekend is not only the chance for them to hear the melodious songs of birds, but also a rare and precious chance for them to meet and talk to their friends and relatives and even make friends with the seemingly strange people.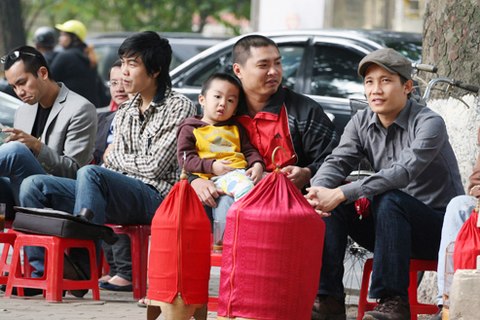 There is a saying that "collecting antiques to keep spirit, collecting trees to maintain politeness and reasonableness, and caring birds to refine mind". Many generations have passed, the Hanoians still maintain a featured culture of the capital of more than 1,000 years of civilization.
Visitors can discover this elegant hobby not only at this intersection at weekends, but also at various markets in Hanoi. If you wish to do it with a guide, you are recommended to book this Hanoi day trip to discover the elegant hobby of Hanoians.