Hanoi is well-known as a city of lakes, with the fascinating and historic Hoan Kiem Lake perhaps the most famous. It can be said to be the spiritual centerpiece of the capital as the location where, in the 15th century. Emperor Le Thai To famously plucked a magical sword from the mouth of a Golden Turtle before leading his troops to triumph over the Chinese Ming Dynasty. Legend has it that the turtle told the king to return the sword once the invaders were defeated and peace had returned. The king obliged, going back to the lake, unsheathing his sword and throwing it to the turtle, hence the name Hoan Kiem – which means Lake of the Returned Sword.
Hoan Kiem Lake is one of the most enchanting spots in the city. It forms a serene, healthy and pleasant atmosphere in the middle of the bustling metropolis. On a tiny island in the centre of the lake stands Thap Rua (Tortoise Tower), a centuries-old three-tiered pavilion in memory of the great tortoise. On another islet to the north, a giant preserved turtle encased in glass sits inside the fourteenth century Ngoc Son Temple, keeping the legend alive. These sites are some of Hanoi's most beautiful landmarks. In the morning it's great to take a walk on the shaded sidewalks around Hoan Kiem Lake. In the surrounding area you can enjoy the picturesque city's vibrant and breathless street life, endless cultural attractions, shops and galleries galore and a fantastic and affordable food scene. You can take a stroll through the Old Quarter – the ancient heart of Hanoi – in itself a form of entertainment with the teeming crowds packing the narrow streets and shops spilling out onto the pavements.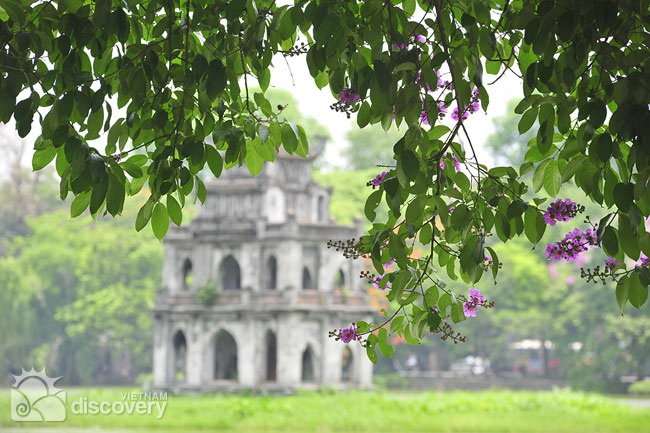 There are several electric buggy tour routes taking foreign and domestic visitors along 28 streets in the Old Quarter, visiting historical sites to give participants an insight into the lives and culture of people in the area. For a more leisurely approach, try to rise early and head for the lake, where the morning Tai Chi classes will be in full swing. For breakfast try a bowl of Pho Bo (around VND30,000) at Pho Thin, 61 Dinh Tien Hoang, before a visit to the Ngoc Son Temple. You can stop for an iced coffee at the outdoor Hapro Café nearby Le Thai To Street and enjoy the rest of the morning.