At present, people are getting familiar to a new restaurant in Hanoi, called "Mau Dich", which reminds of the tough old days of Hanoi when people had to queue for everything, even including a simple meal of steamed rice and sweet potatoes.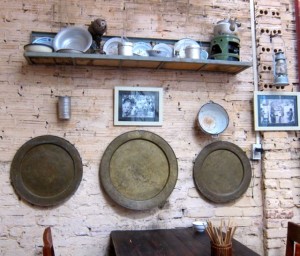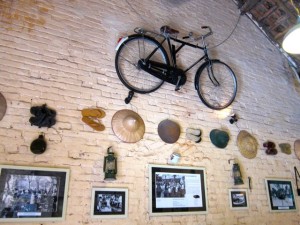 Entering the restaurant, you can see a range of familiar objects hanging on the wall. The objects were very popular in any Vietnamese family during the 1976-86 post-war period, including a rusty bike, some conical hats, some worn out rubber sandals and even some bricks with names on them – which were used to mind a person's spot in a queue for food or fuel, a common practice during this difficult era in Vietnam society. The room is decorated with some boxes containing samples of food coupons, money and chipped metal bowls and covered by the light of a faint yellow light with an enamel metal lampshade.
Additionally, the waiters and waitresses at Mau Dich restaurant are in the uniform of sellers at state-owned shops of the past time. They will take note all customers' orders in pieces of paper like food stamps used during that time.
How about the menu list of Mau Dich Restaurant?
Enjoying a meal at Mau Dich restaurant, you will have a chance to taste the most popular dishes of Vietnam's state-subsidy ("thời bao cấp" in Vietnamese), including com don khoai (steamed rice with sweet potato, as at that time rice was in short supply and had to be supplemented with other starchy food such as sweet potatoes and peralballey), dua xao top mo (pickled cabbage stir-fried with pork fat residue) and ca kho kho (stewed, salted and sun-baked fish).
A cook at Mau Dich did admit that cooking simple food from the time can be a little challenging, as the dishes still have to be authentic but also delicious enough to satisfy all needs of customers, even the strict ones.
Where to find Mau Dich Restaurant?
Lying in a small space in a quiet lane near Truc Bach Lake, the restaurant is definitely a romantic return to a difficult period of Vietnam, when one wants to escape from the hustle and bustle of a modern city of Hanoi. Mau Dich Restaurant is very crowded; therefore, you need to book in advance if you want to try its dishes.
Cua Hang Mau Dich So 37 ("State-run" Food Shop No 37)
Add: 37 Nam Trang Street, Truc Bach Ward, Ba Dinh District
Tel: 04 37 154 336
Hours: 10am-10pm
Price: VND500,000 for a set menu of a typical meal for 6 people
Cityinsight.vn has recently launched a special Hanoi tour in half day to help tourists return to the war and the previous difficult time of Vietnam, by visiting the private war museum of an old Vietnamese veteran, who have been devoted his life in collecting many of Mementos left at Vietnam during the Vietnam War; and enjoying popular dishes during Vietnam's state-subsidy at Mau Dich Restaurant. See tour at: Half-day Hanoi tour to the private war museum.
Furthermore, you can choose a wide range of Hanoi tours, flexibly customized in half-day or full day in different types in order to satisfy needs of visitors.
(Source Vietnamnews)