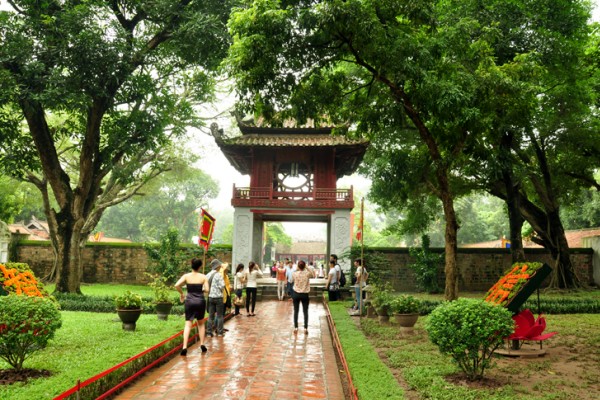 Thanks to possessing more than 5,000 historical relics, approximately 1,300 traditional craft villages and a great number of intangible cultural heritages, Hanoi capital – an attractive destination of Vietnam – is planned to set up regional links to improve efficiency, according to radio The Voice of Vietnam.
In the first quarter of this 2014, Hanoi welcomed over 700,000 foreign visitors, up 15 percent, and nearly 4.9 million domestic tourists, up 8 percent compared to last year, thanks to the city's effort to promote the environment and boost cooperation among companies.
Hanoi's current policy has changed the tourism economy, said Luu Duc Ke, Director of Hanoi Travel Agent, adding: "Although other economic sectors are facing difficulties, the hospitality industry has maintained its growth, thanks to travel agents' efforts. This is an opportunity for the government to confirm its support for the sector's development."
Recently, Hanoi diversified its products to lure visitors. Apart from its best-known attractions, the city is planning to create an area for stage puppetry performances and to organize additional traditional art shows.
Investment has been made in upgrading the infrastructure of inner-city cultural relic sites and improving service quality. Hanoi is also planning to turn the Ba Vi – Suoi Hai site into a national tourist complex and to develop community-based tourism in seven mountainous villages in Hanoi's outlying district of Ba Vi.
"Promoting links among companies has contributed to diversifying products and services for tourists," Nguyen Thi Hoan, a tour guide with the Hanoi Tourism Company, said.
The municipal tourism sector is promoting the construction of a center covering an area of 50 hectares in the outlying district of Dong Anh to introduce Hanoi's craft villages.
According to To Van Dong, Director of the municipal Department of Culture, Sports and Tourism, Hanoi is implementing tourism development projects with a focus on upgrading historical relics and offering on-site translation so they can better understand what they are looking at.
In 2014, Hanoi targets 3 million foreign tourists and 16 million domestic travelers, 20 percent more than last year. It has set a goal of becoming a major tourist center in the region.
(Source: VNA)